Moravian Chicken Pies!  Order Yours Now!
Prepared by "Mrs. Pumpkin's Chicken Pies"
Pie crust filled with tender boneless and skinless chicken breast
Feeds four
Comes frozen and ready to put in the oven to bake for an hour
Great family meal!  Great gift idea!  Easy!  Delicious!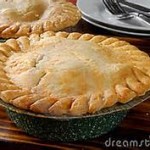 $12.00 each…    Three for $33.00…   Four for $45.00
Orders must be placed by October 21, 2013
Will be available for pick up on November 2, 2013 in the parking lot of
The First Presbyterian Church in Mount Airy.
To place an order contact Mark Gillespie at 336.789.2035
Proceeds to benefit VOCE, Surry County's Premiere Choral Ensemble
Treat yourself, your family, your friends to a great meal!
Order Now!